NAPROXEN ľNajo 500 E.C. TAB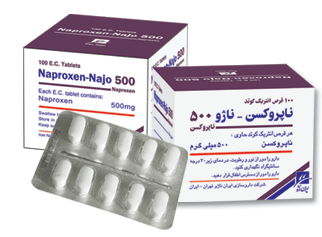 Category: ANTIINFLAMMATORY AND ANTIRHEUMATIC PRODUCTS, NON-STEROIDS
INDICATIONS: Naproxen is indicated for the treatment of rheumatoid arthritis, osteoarthritis, ankylosing spondylitis and juvenile arthritis, tendonitis, bursitis, acute gout, and for the management of pain and primary dysmenorrhea.
DOSAGE AND ADMINISTRATION:
Rheumatoid arthritis, Osteoarthritis and Ankylosing spondylitis: Naproxen 250 mg or 500 mg twice daily.
During long-term administration, the dose of naproxen may be adjusted up or down depending on the clinical response of the patient. A lower daily dose may suffice for long-term administration.
In patients who tolerate lower doses well, the dose may be increased to naproxen 1500 mg per day for limited periods of up to 6 months when a higher level of anti-inflammatory/analgesic activity is required.
Juvenile Arthritis: the recommended total daily dose of naproxen is approximately 10 mg/kg given in 2 divided doses (ie, 5 mg/kg given twice a day).
Management of Pain, Primary Dysmenorrhea and Acute Tendonitis and Bursitis: The recommended starting dose is 500 mg of naproxen followed by 500 mg every 12 hours.
Acute Gout: the recommended starting dose is 750 mg of Naproxen followed by 250 mg every 8 hours until the attack has subsided.
CLINICAL PHARMACOLOGY:
Naproxen is a NSAID with analgesic and antipyretic properties. The naproxen anion inhibits prostaglandin synthesis but beyond this its mode of action is unknown.
Pharmacokinetics: Naproxen itself is rapidly and completely absorbed from the gastrointestinal tract with an in vivo bioavailability of 95%. The elimination half-life of naproxen is from 12 to 17 hours. Steady-state levels of naproxen are reached in 4 to 5 days.
Absorption: Immediate Release: after administration of Naproxen tablets, peak plasma levels are attained in 2 to 4 hours.
Metabolism: Naproxen is extensively metabolized to 6-0-desmethyl naproxen, and both parent and metabolites do not induce metabolizing enzymes.
Elimination: the clearance of naproxen is 0.13 mL/min/kg. Approximately 95% of the naproxen from any dose is excreted in the urine.
CONTRAINDICATIONS:
Allergic reactions to naproxen, aspirin or other nonsteroidal anti-inflammatory/analgesic drugs induce the syndrome of asthma, rhinitis, and nasal polyps, Anaphylactoid reactions to naproxen.
WARNINGS:
Risk of GI ulceration, bleeding and perforation with NSAID therapy: serious gastrointestinal toxicity such as bleeding, ulceration and perforation can occur at any time, with or without warning symptoms, in patients treated chronically with NSAID therapy. symptomatic upper GI ulcers, gross bleeding or perforation appear to occur in approximately 1% of patients treated for 3 to 6 months and in about 2% to 4% of patients treated for 1 year.
PRECAUTIONS:
Renal effects: the Naproxen should be used with caution in patients with significantly impaired renal function, and the monitoring of serum creatinine and/or creatinine clearance is advised in these patients.
Hepatic function: Although such reactions are rare, if abnormal liver tests persist or worsen, if clinical signs and symptoms consistent with liver disease develop, or if systemic manifestations occur (eg, eosinophilia, rash, etc.), naproxen should be discontinued.
Fluid retention and edema: peripheral edema has been observed in some patients receiving naproxen, should be used with caution in patients with fluid retention, hypertension or heart failure.
Pregnancy: because of the known effect of drugs of this class on the human fetal cardiovascular system (closure of ductus arteriosus), use during third trimester should be avoided.
Nursing Mothers: use in nursing mothers should be avoided.
OVERDOSAGE:
Significant naproxen overdosage may be characterized by drowsiness, heartburn, indigestion, and nausea or vomiting. Should the stomach may be emptied and usual supportive measures employed. Hemodialysis does not decrease the plasma concentration of naproxen because of the high degree of its protein binding.
SIDE EFFECTS:
Incidence greater than 1% (Probable Causal Relationship):
Gastrointestinal: constipation, heartburn, abdominal pain, nausea, dyspepsia, diarrhea, stomatitis.
Central Nervous System: headache, dizziness, drowsiness, lightheadedness, vertigo
Dermatologic: itching(pruritus), skin eruptions, ecchymoses, sweating, purpura
Special Senses: tinnitus, hearing disturbances, visual disturbances
Cardiovascular: edema, dyspnea, palpitations
DRUG INTERACTION:
ACE inhibitors, coumarin-type anticoagulants, hydantoin, sulfonamide or sulfonylurea, aspirin, lithium, other nonsteroidal anti-inflammatory, beta-blockers, methotrexate.
How Supplied: Each Package of Naproxen-Najo 500 contains 10 Blisters of 100 E.C. Tablets.
storage: Store at controlled room temperature below 30░C. Protect from light and moisture.
For more information please refer to:
USPDI for Professional Health Care 2007, page 375.
Martindale
35

ed page 38.

IRAN NAJO PHARMACEUTICAL COMPANY

www.irannajo.com
Address: No. 9, West Hoveiseh, Sabounchi St., Sohrevardi Ave., Tehran 1533693317, Iran
Tel: +9821-88747363 Fax: +9821-88740644 info@irannajo.com