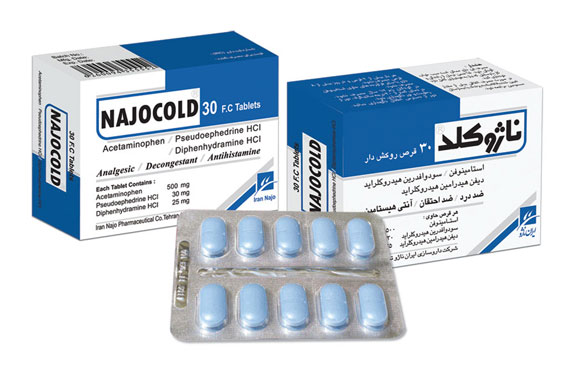 Najocold tablet
Each tablet of najocold contains of Acetaminophen 500 mg, Pseudoephedrine 30 mg and Diphenhydramine 25 mg.
Category: Analgesic, Antipyretic, Antihistamine and Decongestant.
INDICATIONS: Temporary relief of fever and discomfort as nasal congestion due to colds and "flu, temporarily relieves hay fever or other upper respiratory allergies, sinus congestion and pressure.
DOSAGE AND ADMINISTRATION:
Adults and children 12 years of age and older: Two tablets every 6 hours. No more than a total of 8 tablets in any 24 hour.
Mechanism of Action: Acetaminophen produces analgesia by elevation of the pain threshold and antipyretics through action on the hypothalamic heat regulating center, Diphenhydramine is a histamine-blocker and pseudoephedrine is alpha adrenergic receptors in mucosa of respiratory tract.
CONTRAINDICATIONS: najocold should not be administered to patients who have previously exhibited hypersensitivity to it or its gradient as acetaminophen, pseudoephedrine and diphenhydarmine.
PRECAUTIONS:
Pregnancy: concern for fetus and or newborn infant only with high doses and long term therapy.
Nursing Mothers: a decision should be made whether to discontinue nursing or to discontinue the drug.
Geriatric Use: Anticholinergic and CNS stimulant effects more likely to occur therefore diminish daily dosage.
Pediatric Use: Increase suseptibility to Anticholinergic effects of Antihistamine and to Vasopressor effects of Sympathomimetics.
SIDE EFFECTS: Less frequent or rare but important: Hallucinations, Convulsions, Trouble breathing, Anaphylaxis, Blood dyscrasias, Cardiac arrhythmia, Cholestasis, Edema, Neuritis, and Urticaria.
More frequent: Drowsiness, Dryness of mouth or throat, GI upset, Nausea, Headache, Weight gain, Pharyngitis, Nervousness, Restlessness, Trouble in sleeping.
DRUG INTERACTION: Alcohol, Oral Anticoagulants, Hydantoins, Carbamazepine, Diflunisal, Isoniazid, CNS depressant, Anticholinergic agent, MAO inhibitors, Antihypertensive,
How Supplied: Each pack contains of 30 tablets of Najocold.
storage: Store in a tight container protected from light and moisture. Store between 15 to 30°C.
For more information please refer to:
USPDI for Professional Health Care, 2007, page: 358, 15, 333, and 2451.
IRAN NAJO PHARMACEUTICAL COMPANY
www.irannajo.com
Address: No.153, West Hoveiseh, Sabounchi St., Sohrevardi Ave., Tehran 1533693317, Iran
Tel: +9821-88747363 Fax: +9821-88740644 info@irannajo.com