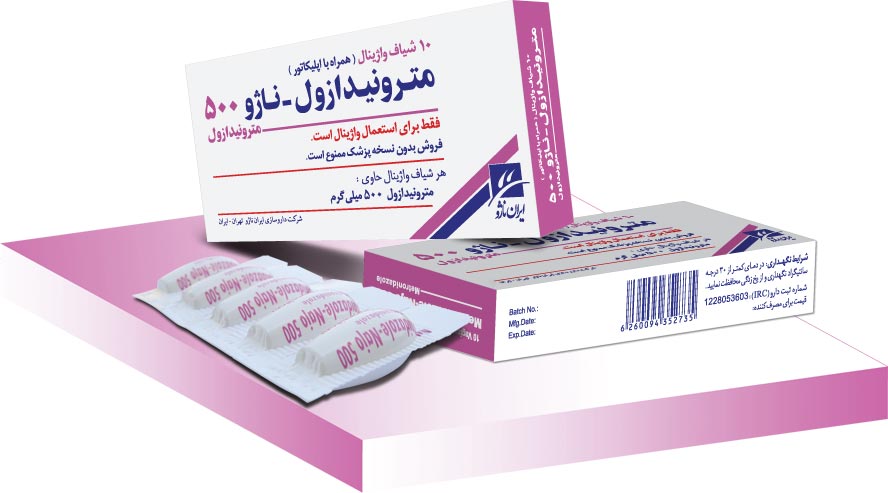 MetronidazoleľNajo 500 MG Vaginal Supp.
Category: Synthetic antibacterial
INDICATIONS: Treatment of bacterial vaginosis and
DOSAGE AND ADMINISTRATION: One Metronidazole-Najo Suppository intravaginally once a day for 10 days at bedtime.
CLINICAL PHARMACOLOGY: The intracellular targets of action of metronidazole on anaerobes are largely unknown. The 5-nitro group of metronidazole is reduced by metabolically active anaerobes, and studies have demonstrated that the reduced form of the drug interacts with bacterial DNA. Dose-adjusted comparisons of AUCs demonstrated that, on a mg to mg comparison basis, the absorption of metronidazole, when administered vaginally, was approximately half that of an equivalent oral dosage.
CONTRAINDICATIONS: Metronidazole-Najo Suppository is contraindicated in patients with a prior history of hypersensitivity to metronidazole,
PRECAUTIONS: Metronidazole vaginal suppository should be administered with caution to patients with central nervous system diseases. Metronidazole vaginal suppository should not be administered to patients who have taken disulfiram within the last two weeks.
Patients with severe hepatic disease metabolize metronidazole slowly. This results in the accumulation of metronidazole and its metabolites in the plasma. Accordingly, for such patients, Metronidazole vaginal suppository should be administered cautiously.
Known or previously unrecognized vaginal candidiasis may present more prominent symptoms during therapy with metronidazole vaginal gel. Approximately 6-10% of patients treated with Metronidazole vaginal suppository developed symptomatic Candida vaginitis during or immediately after therapy.
Metronidazole therapy is not recommended more than 2 or 3 times in each year.
Pregnancy: Pregnancy Category B, metronidazole is a carcinogen in rodents, this drug should be used during pregnancy only if clearly needed.
Nursing Mothers: a decision should be made whether to discontinue nursing or to discontinue the drug, taking into account the importance of the drug to the mother
Pediatric Use: Safety and effectiveness in children have not been established.
SIDE EFFECTS: Candidia cervicitis or vaginitis( 6-15%), Abdominal cramp (3.4%), Burning or irritation of penis of sexual partner, Vulvulitis, Burning or increase frequency of urination, Metalic taste, CNS effects, Dryness of mouth, GI disturbance, loss of appetite.
DRUG INTERACTION: Alcohol, Anticoagulants, Cyclosporine, Cimetidine, Disulfiram, phenytoin & Lithium.
How Supplied: Each Package of Metronidazole-Najo contains 10 suppositories.
storage: Store at controlled room temperature to 30░C. Protect from freezing.
For more information please refer to:
Martindale
35

ed, page: 753.

Vidal 2004, 740.

IRAN NAJO PHARMACEUTICAL COMPANY

www.irannajo.com
Address: No. 153, West Hoveiseh, Sabounchi St., Sohrevardi Ave., Tehran 1533693317, Iran
Tel: +9821-88747363 Fax: +9821-88740644 info@irannajo.com