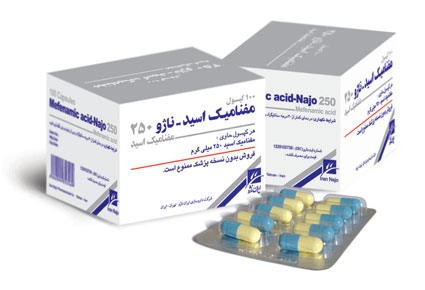 Mefenamic acid-Najo 250 MG capsule
Category: NSAIDs
INDICATIONS: For relief of mild to moderate pain in patients, treatment of primary dysmenorrheal.
DOSAGE AND ADMINISTRATION: Administration is preferably with food. For relief of acute pain in adults and adolescents >14 years of age, is 500 mg as an initial dose followed by 250 mg every 6 hours as needed, usually not to exceed one week. For the treatment of primary dysmenorrhea, the recommended dose is 500 mg as an initial dose followed by 250 mg every 6 hours, starting with the onset of bleeding and associated symptoms.
Mechanism of Action: The mechanism of action of Mefenamic Acid may be related to prostaglandin synthetase inhibition.
CONTRAINDICATIONS: Mefenamic Acid is contraindicated in patients with known hypersensitivity to Mefenamic acid. Mefenamic Acid should not be given to patients who have experienced asthma, urticaria, or allergic-type reactions after taking aspirin or other NSAIDs. Mefenamic Acid is contraindicated in patients with active ulceration or chronic inflammation of either the upper or lower gastrointestinal tract. Mefenamic Acid should not be used in patients with preexisting renal disease.
PRECAUTIONS:
Gastrointestinal (GI) Effects, Risk of GI Ulceration, Bleeding, and Perforation: Serious gastrointestinal toxicity, such as inflammation, bleeding, ulceration, and perforation of the stomach, small intestine or large intestine, can occur at any time, with or without warning symptoms.
Anaphylactoid Reactions: Anaphylactoid reactions may occur in patients without known prior exposure to Mefenamic Acid.
Renal Effects: Caution should be used when initiating treatment with Mefenamic Acid in patients with considerable dehydration.
Preexisting Asthma: Patients with asthma may have aspirin-sensitive asthma. The use of aspirin in patients with aspirin-sensitive asthma has been associated with severe bronchospasm which can be fatal.
Pregnancy: Pregnancy Category C.
Nursing Mothers: Trace amounts of Mefenamic Acid may be present in breast milk, because serious adverse reactions in nursing infants a decision should be made whether to discontinue nursing or to discontinue the drug.
Pediatric Use: Safety and effectiveness in pediatric patients below the age of 14 have not been established.
Geriatric Use: As with any NSAID, caution should be exercised in treating the elderly (65 years and older).
SIDE EFFECTS: In patients taking Mefenamic Acid or other NSAIDs, the most frequently reported adverse experiences occurring in approximately 1-10% of patients are: abdominal pain, constipation, diarrhea, dyspepsia, flatulence, gross bleeding/perforation, heartburn, nausea, GI ulcers (gastric/duodenal), vomiting, abnormal renal function, anemia, dizziness, edema, elevated liver enzymes, headaches, increased bleeding time, pruritus, rashes, tinnitus.
DRUG INTERACTION: Aspirin, Methotrexate, ACE inhibitors, Furosemide, Lithium, Warfarin, Antacids
How Supplied: Each pack of 10 blisters and 100 capsules.
storage: Store in a tight container protected from light and moisture. Store below 30°C.
For more information please refer to:
USPDI for Professional Health Care, 2007, page: 375.
Martindale
IRAN NAJO PHARMACEUTICAL COMPANY
www.irannajo.com
Address: No.153, West Hoveiseh, Sabounchi St., Sohrevardi Ave., Tehran 1533693317, Iran
Tel: +9821-88747363 Fax: +9821-88740644 info@irannajo.com