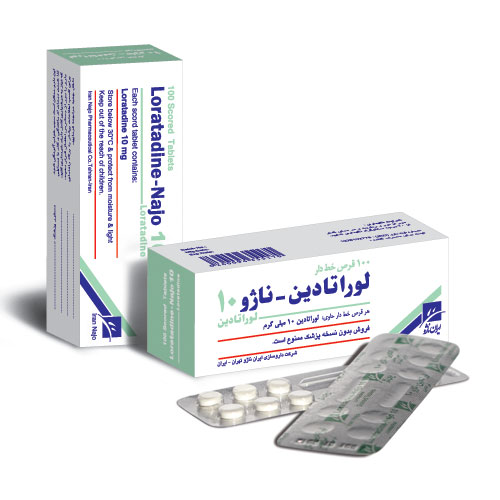 Loratadine-Najo 10 MG TABLET
Category: Antihistamine.
INDICATIONS: Loratadine is indicated for the symptomatic treatment of allergic rhinitis and chronic idiopathic urticaria and as adjunct in Asmatha.
DOSAGE AND ADMINISTRATION:
Adults and children 6 years of age and over: 10 mg daily (one tablet once daily).
Children aged 2 to fewer than 6 years with: 5 mg daily.
Efficacy and safety of Loratadine in children under 2 years of age have not been established.
Patients with severe liver and renal impairment should be administered a lower initial dose because they may have reduced clearance of Loratadine.
Mechanism of Action: Loratadine is a selective H1-receptor antagonist.
CONTRAINDICATIONS: Loratadine is contraindicated in those patients with a known hypersensitivity to it or any of its ingredients or hydroxyzine.
PRECAUTIONS: Loratadine should be used with caution in the treatment of patients with severe liver impairment and administration of Loratadine tablets should be discontinued at least 48 hours before skin tests, as antihistamines may prevent or reduce otherwise positive reactions to dermal reactivity index.
Pregnancy: Pregnancy Category B
Nursing Mothers: Loratadine has been reported to be excreted in human breast milk.Therefore use of Loratadine in nursing mothers is not recommended.
Geriatric Use: Because elderly patients are more likely to have anticholinergic side effects due to age related renal function impariment, care should be taken in dose selection, even though Loratadine has less anticholinergic effects.
SIDE EFFECTS: Less frequent or rare but important: Anaphylaxis, Blood dyscrasias, Cardiac arrhythmia, Cholestasis, Covulsions, Edema, Neuritis, and Urticaria.
DRUG INTERACTION: Alcohol, CNS depressant, Anticholinergic agent and MAO inhibitors,
How Supplied: Each pack contains of 3 blisters and 30 tablets.
storage: Store below 30°C.
For more information please refer to:
USPDI for Professional Health Care, 2007, page: 333.
Martindale
35

ed page: 527.

IRAN NAJO PHARMACEUTICAL COMPANY

www.irannajo.com
Address: No.153, West Hoveiseh, Sabounchi St., Sohrevardi Ave., Tehran 1533693317, Iran
Tel: +9821-88747363 Fax: +9821-88740644 info@irannajo.com