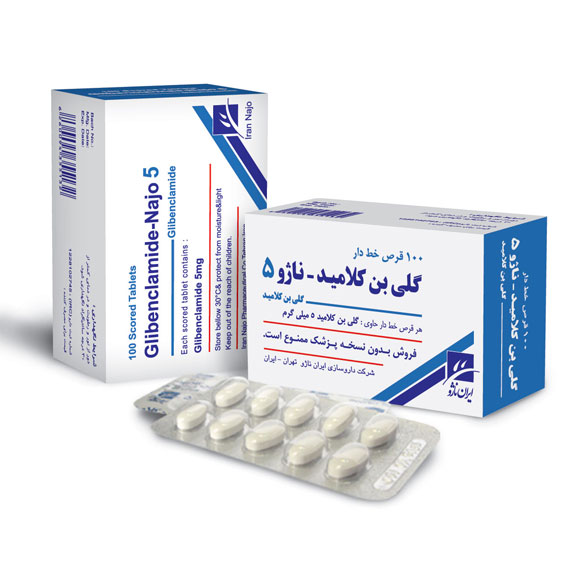 Glibenclamide-Najo 5 MG TabletS
Category: Blood Glucose Lowering Drug, sulfonyl urea derivatives, A10BB01.
INDICATIONS: Glibenclamide-Najo is indicated as an adjunct to diet and exercise to improve glycemic control in adults with type 2 diabetes mellitus.
DOSAGE AND ADMINISTRATION:
The usual starting dose of Glibenclamide as initial therapy is 2.5 to 5 mg daily, administered with breakfast or the first main meal. Those patients who may be more sensitive to hypoglycemic drugs should be started at 1.25 mg daily. The usual maintenance dose is in the range of 1.25 to 20 mg daily, which may be given as a single dose or in divided doses. Dosage increases should be made in increments of no more than 2.5 mg at weekly intervals based upon the patient's blood glucose response. Daily doses of more than 20 mg are not recommended.
CLINICAL PHARMACOLOGY: Glibenclamide appears to lower the blood glucose acutely by stimulating the release of insulin from the pancreas. Single-dose studies with Glibenclamide in normal subjects demonstrate significant absorption within one hour, peak drug levels at about four hours, the terminal half-life being about 10 hours. Glibenclamide is excreted as metabolites in the bile and urine, approximately 50% by each route.
CONTRAINDICATIONS: Hypersensitivity to the drug or any of its excipients, type 1 diabetes mellitus or diabetic ketoacidosis.
WARNINGS: The administration of oral hypoglycemic drugs has been reported to be associated with increased cardiovascular mortality as compared to treatment with diet alone or diet plus insulin.
PRECAUTIONS:
Pregnancy: pregnancy category C.
Nursing Mothers: Because the potential for hypoglycemia in nursing infants may exist, a decision should be made whether to discontinue nursing or to discontinue administering the drug.
Pediatric Use: Safety and effectiveness in pediatric patients have not been established.
Geriatric Use: Elderly patients are particularly susceptible to hypoglycemic action of glucose-lowering drugs. Hypoglycemia may be difficult to recognize in the elderly.
All sulfonylurea drugs are capable of producing severe hypoglycemia. Proper patient selection, dosage, and instructions are important to avoid hypoglycemic episodes.
Severe renal or hepatic insufficiency, elderly, debilitated or malnourished patients, in severe or prolonged exercise, and those with adrenal or pituitary insufficiency are particularly susceptible to the hypoglycemic action of glucose-lowering drugs.
Treatment of patients with glucose 6-phosphate dehydrogenase (G6PD) deficiency with sulfonylurea agents can lead to hemolytic anemia.
SIDE EFFECTS: more common, important: Hypoglycemia mild, weight gain. Uncommon, important: Erythem multiform, severe hypoglycemia. Rare, important: Anemia, blood dyscrasias, hepatic impairment, cholestasis.
DRUG INTERACTION: Alcohol, Anticoagulant- coumarin, Antifungals- azoles, Asparaginase, Corticosteroids, Diuretics- thiazide, Lithium, Beta blockers, H2 blockers, Cyclosporine, Flouroquinolones, MAO inhibitors, Salicylates large dosages, Guanethidine, Quinidine.
How Supplied: Each package contains 100 Glibenclamide-Najo 5 MG Tablets in 10 blisters.
storage: Store below 30°C.
For more information please refer to:
USPDI for Professional Health Care, 2007, page: 293.
Martindale
35

ed page: 398.

IRAN NAJO PHARMACEUTICAL COMPANY

www.irannajo.com
Address: No.153, West Hoveiseh, Sabounchi St., Sohrevardi Ave., Tehran 1533693317, Iran
Tel: +9821-88747363 Fax: +9821-88740644 info@irannajo.com