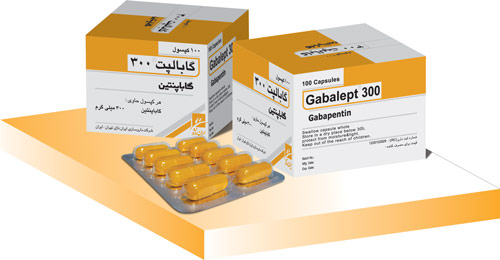 Gabalept 300 MG cap
Gabapentin
Category: Antiepileptic.
INDICATIONS: Postherpetic Neuralgia in adults and Epilepsy as adjunctive therapy in the treatment of partial seizures with and without secondary generalization.
DOSAGE AND ADMINISTRATION:
Postherpetic Neuralgia: In adults with postherpetic neuralgia, Gabapentin therapy may be initiated as a single 300-mg dose on Day 1, 600 mg/day on Day 2 (divided BID), and 900 mg/day on Day 3 (divided TID). The dose can subsequently be titrated up as needed for pain relief to a daily dose of 1800 mg (divided TID).
Epilepsy:
Patients > 12 years of age: The starting dose is 300 mg three times a day. If necessary, the dose may be increased using 300 or 400 mg capsules, or 600 or 800 mg tablets three times a day up to 1800 mg/day. The effective dose of Gabapentin is 900 to 1800 mg/day. Doses of 3600 mg/day have also been administered to a small number of patients for a relatively short duration, and have been well tolerated.
Pediatric Patients Age 3–12 years:The starting dose should range from 10-15 mg/kg/day in 3 divided doses, and the effective dose reached by upward titration over a period of approximately 3 days. The effective dose of Gabapentin in patients 5 years of age and older is 25–35 mg/kg/day and given in divided doses (three times a day).
The maximum time interval between doses should not exceed 12 hours. Effectiveness in pediatric patients below the age of 3 years has not been established. It is not necessary to monitor gabapentin plasma concentrations to optimize Gabapentin therapy. Further, because there are no significant pharmacokinetic interactions among Gabapentin and other commonly used antiepileptic drugs, the addition of Gabapentin does not alter the plasma levels of these drugs appreciably. If Gabapentin is discontinued and/or an alternate anticonvulsant medication is added to the therapy, this should be done gradually over a minimum of 1 week. Dosage adjustment in patients with compromised renal function or undergoing hemodialysis is recommended.
CLINICAL PHARMACOLOGY: Gabapentin is structurally related to the neurotransmitter GABA (gamma-aminobutyric acid). Gabapentin is eliminated from the systemic circulation by renal excretion as unchanged drug. Gabapentin is not appreciably metabolized in humans.
CONTRAINDICATIONS: Gabapentin is contraindicated in patients who have demonstrated hypersensitivity to the drug or its ingredients.
WARNINGS: Antiepileptic drugs (AEDs), including Gabapentin, increase the risk of suicidal thoughts or behavior in patients taking these drugs for any indication. Antiepileptic drugs should not be abruptly discontinued because of the possibility of increasing seizure frequency.
PRECAUTIONS:
Pregnancy: Pregnancy Category C.
Nursing Mothers: Gabapentin should be used in women who are nursing only if the benefits clearly outweigh the risks.
Pediatric Use: Safety and effectiveness of Gabapentin (gabapentin) in the management of postherpetic neuralgia in pediatric patients have not been established.
Geriatrics Use: In decreased renal function, care should be taken in dose selection, and dose should be adjusted based on creatinine clearance values in these patients.
SIDE EFFECTS: ataxia, nystagmus, psychiatric problems, hostility, hyperkinesias, thought disorder, amnesia, depression, irritability, mood and mental changes, leucopenia.
DRUG INTERACTION: Alchohol, CNS depression, Antacids, Morphine, Hydrocodone, Naproxen.
How Supplied: Each Package of Gabalept contains 10 Blisters and 100 Tablets.
storage: Store at controlled room temperature to 30°C. Protect from light and moisture.
For more information please refer to:
USPDI for Professional Health Care, 2007, 1482.
IRAN NAJO PHARMACEUTICAL COMPANY
www.irannajo.com
Address: No. 153, West Hoveiseh, Sabounchi St., Sohrevardi Ave., Tehran 1533693317, Iran
Tel: +9821-88747363 Fax: +9821-88740644 info@irannajo.com