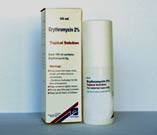 Erythromycin 2% Topical Solution is an anti acne vulgaris solution with bacteriostatic action against propionibacterium acnes.
Packaging: 60ml PE Bottle with applicator
Erythromycin 2 w/w.
3. PHARMACEUTICAL FORM
Solution for topical use.
4. CLINICAL PARTICULARS
4.1 Therapeutic indications
Stiemycin is indicated for use in the treatment of acne vulgaris.
4.2 Posology and method of administration
To be applied to the affected area twice daily after washing with soap and water.
4.3 Contraindications
Stiemycin is contraindicated in patients with known sensitivity to any of the ingredients.
4.4 Special warnings and precautions for use
Avoid contact with eyes and other mucous membranes. Concomitant topical acne therapy should be used with caution because a cumulative irritant effect may occur.
4.5 Interaction with other medicinal products and other forms of interaction
None known.
4.6 Pregnancy and lactation
There is no evidence of hazard from erythromycin in human pregnancy. It has been in wide use for many years without apparent ill consequence.
4.7 Effects on ability to drive and use machines
None.
4.8 Undesirable effects
None.
4.9 Overdose
Not applicable.
5. PHARMACOLOGICAL PROPERTIES
5.1 Pharmacodynamic properties
Erythromycin suppresses Propionibacterium acnes, a resident bacterial of sebaceous follicles, and as a result of this organism's role in the hydrolysis of triglycerides to free fatty acids, administration decreases fatty acid formation. This is thought to be responsible for its effectiveness in reducing acne lesion counts and the fatty acid to fatty ester ratios in acne patients.
5.2 Pharmacokinetic properties
Not applicable.