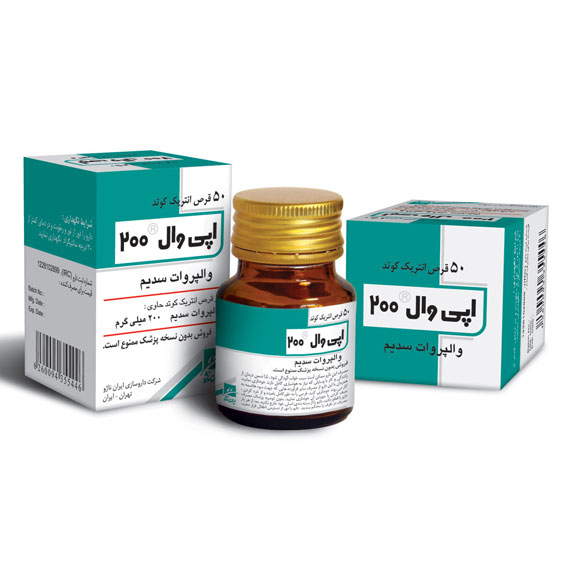 Valproate Sodium –Najo 200 MG TAB E.C.
Category: Antiepileptic
INDICATIONS: is indicated as monotherapy and adjunctive therapy in the treatment of patients with complex partial seizures that occur either in isolation or in association with other types of seizures, is indicated for use as sole and adjunctive therapy in the treatment of simple and complex absence seizures, and adjunctively in patients with multiple seizure types which include absence seizures.
DOSAGE AND ADMINISTRATION:
Patients should initiate therapy at 10 to 15 mg/kg/day. The dosage should be increased by 5 to 10 mg/kg/week to achieve optimal clinical response.Ordinarily, optimal clinical response is achieved at daily doses below 60 mg/kg/day. If satisfactory clinical response has not been achieved, plasma levels should be measured to determine whether or not they are in the usually accepted therapeutic range (50 to 100 µg/mL).
The probability of thrombocytopenia increases significantly at total trough valproate plasma concentrations above 110 µg/mL in females and 135 µg/mL in males. The benefit of improved seizure control with higher doses should be weighed against the possibility of a greater incidence of adverse reactions.
CLINICAL PHARMACOLOGY:
Valproate Na dissociates to the valproate ion in the gastrointestinal tract. It has been suggested that its activity in epilepsy is related to increased brain concentrations of gamma-aminobutyric acid (GABA).
Valproate is metabolized almost entirely by the liver. In adult patients on monotherapy, 30-50% of an administered dose appears in urine as a glucuronide conjugate. Mitochondrial ß-oxidation is the other major metabolic pathway, typically accounting for over 40% of the dose. Usually, less than 15-20% of the dose is eliminated by other oxidative mechanisms. Less than 3% of an administered dose is excreted unchanged in urine.
CONTRAINDICATIONS: Valproate Na should not be administred to patients with hepatic disease or significant hepatic dysfunction, Valproate Na sodium is contraindicated in patients with known hypersensitivity to the drug and with known urea cycle disorders.
WARNING:
Hepatotoxicity- Hepatic failure resulting in fatalities has occurred in patients receiving valproic acid. These incidents usually have occurred during the first six months of treatment. The drug should be discontinued immediately in the presence of significant hepatic dysfunction, suspected or apparent. In some cases, hepatic dysfunction has progressed in spite of discontinuation of drug.
Pancreatitis- Cases of life-threatening pancreatitis have been reported in both children and adults receiving valproate.
Urea Cycle Disorder- Valproate Na sodium is contraindicated in patients with known urea cycle disorders.
PRECAUTIONS:
Pregnancy: Pregnancy Category D.
Nursing Mothers: Consideration should be given to discontinuing nursing when Valproate Na sodium is administered to a nursing woman.
Pediatric Use- Experience has indicated that pediatric patients under the age of two years are at a considerably increased risk of developing fatal hepatotoxicity.
Geriatric Use- Due to a decrease in unbound clearance of valproate and possibly a greater sensitivity to somnolence in the elderly.
OVERDOSAGE: Overdosage with valproate may result in somnolence, heart block, and deep coma. In overdose situations, the fraction of drug not bound to protein is high and hemodialysis or tandem hemodialysis plus hemoperfusion may result in significant removal of drug. General supportive measures should be applied with particular attention to the maintenance of adequate urinary output.
SIDE EFFECTS: Important & more frequent: Infectious; Pharyngitis, Important & rare: Behavioral mood or mental changes, Dyspnea, Edema, Hematemesis, Hepatoxicity, Hypotension, Liver dysfunction, Nystagmus, Spots before eyes, Otitis media, Palpitation, Pancreatitis, Peritoneal abscess, Thrombocytopenia, Pneumonia, Vaginal hemorrhage.
DRUG INTERACTION: Alcohol, CNS depressants, Amitryptilline, Anticoagulant, Heparin, Thrombolytic agents, Aspirin, Barbiturates, Primidone, Carbamazepine, Felbamate, Hepatotoxic medications, Lamotrigine, Mefloquine, Phenytoin, Platlet aggregation inhibitors.
How Supplied: Each Package of Valproate-Najo contains 1 Bootle and 50 E.C.Tablets.
storage: Store at controlled room temperature to 30°C. Protect from light and moisture.
For more information please refer to:
USPDI for Professional Health Care, 2007, page: 2853.
Martindale
35

ed, page: .

IRAN NAJO PHARMACEUTICAL COMPANY

www.irannajo.com
Address: No. 153, West Hoveiseh, Sabounchi St., Sohrevardi Ave., Tehran 1533693317, Iran
Tel: +9821-88747363 Fax: +9821-88740644 info@irannajo.com