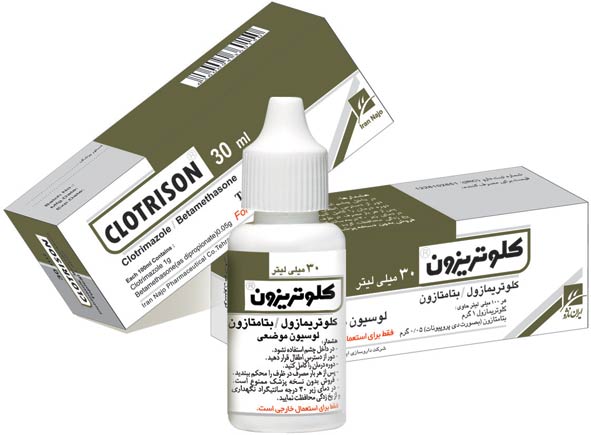 CLOTRISONE –Najo Lotion
Category: CLOTRISONEŽ Lotion contains combinations of clotrimazole, a synthetic antifungal agent, and betamethasone dipropionate, a synthetic corticosteroid, for dermatologic use. Each gram of LOTRISONE Lotion contains 10 mg clotrimazole and 0.643 mg betamethasone dipropionate (equivalent to 0.5 mg betamethasone).
INDICATIONS: Treatment of symptomatic inflammatory tinea pedis, tinea cruris, and tinea corporis due to Epidermophyton floccosum, Trichophyton mentagrophytes, and Trichophyton rubrum.
DOSAGE AND ADMINISTRATION: Gently massage sufficient CLOTRISONEŽ Lotion into the affected skin areas twice a day, in the morning and evening. CLOTRISONEŽ Lotion should not be used longer than 2 weeks in the treatment of tinea corporis or tinea cruris, and amounts greater than 45 mL per week of CLOTRISONEŽ Lotion should not be used. If a patient with tinea corporis or tinea cruris shows no clinical improvement after 1 week of treatment with CLOTRISONEŽ Lotion, the diagnosis should be reviewed. CLOTRISONEŽ Lotion should not be used longer than 4 weeks in the treatment of tinea pedis. CLOTRISONEŽ Lotion should not be used with occlusive dressings.
Safety and efficacy of CLOTRISONEŽ Lotion have not been established in children up to 12 years of age.
CLINICAL PHARMACOLOGY:
Clotrimazole is an imidazole antifungal agent. Imidazoles inhibit 14-α-demethylation of lanosterol in fungi by binding to one of the cytochrome P-450 enzymes. This leads to the accumulation of 14-α methylsterols and reduced concentrations of ergosterol, a sterol essential for a normal fungal cytoplasmic membrane. The methylsterols may affect the electron transport system, thereby inhibiting growth of fungi.
Betamethasone dipropionate, a corticosteroid, has been shown to have topical (dermatologic) and systemic pharmacologic and metabolic effects characteristic of this class of drugs.
CONTRAINDICATIONS: CLOTRISONEŽ Lotion is contraindicated in patients who are sensitive to clotrimazole, betamethasone dipropionate, other corticosteroids or imidazoles, or to any ingredient in these preparations. Other condition such as herpes simplex, tubercular infections of skin, varicella or other viral infections of skin.
PRECAUTIONS:
Pregnancy: Pregnancy Category C
Nursing Mothers: Because many drugs are excreted in human milk, caution should be exercised when CLOTRISONEŽ Lotion is administered to a nursing woman.
The use of CLOTRISONEŽ Lotion in the treatment of diaper dermatitis is not recommended.
Pediatric: Because of higher ratio of skin surface area to body mass, pediatric patients under the age of 12 years are at a higher risk with CLOTRISONEŽ Lotion. They are at increased risk of developing Cushing's syndrome while on treatment and adrenal insufficiency after withdrawal of treatment.
Geriatric: Caution should be exercised with the use of these corticosteroid-containing topical products on thinning skin.
adverse reactions: Adverse reactions reported for CLOTRISONEŽ Lotion in clinical trials were burning and dry skin in 1.6% of patients and stinging in less than 1% of patients. The following local adverse reactions have been reported with topical corticosteroids and may occur more frequently with the use of occlusive dressings. These reactions are listed in an approximate decreasing order of occurrence: itching, irritation, dryness, folliculitis, hypertrichosis, acneiform eruptions, hypopigmentation, perioral dermatitis, allergic contact dermatitis, maceration of the skin, secondary infection, skin atrophy, striae, miliaria, capillary fragility (ecchymoses), telangiectasia, and sensitization (local reactions upon repeated application of product).
DRUG INTERACTION: No information provided.
How Supplied: Each Package of Clotrisone contains 1 Bottle.
storage: Store at controlled room temperature to 30°C. Protect from light and moisture.
For more information please refer to:
USPDI for Professional Health Care, 2007, 863.
Martindale
35

ed, page: 477 .

IRAN NAJO PHARMACEUTICAL COMPANY

www.irannajo.com
Address: No. 9, West Hoveiseh, Sabounchi St., Sohrevardi Ave., Tehran 1533693317, Iran
Tel: +9821-88747363 Fax: +9821-88740644 info@irannajo.com