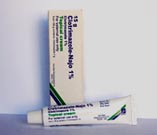 Clotrimazole 1% Topical Cream is an antifungal imidazole that is used topically in superficial candidiasis, pityriasis versicolor and dermatophytosis.
Packaging: 15g Aluminum Tube
CLOTRIMAZOLE 1% CREAM
3. PHARMACEUTICAL FORM
Topical cream
4. CLINICAL PARTICULARS
4.1 Therapeutic indications
For the treatment of skin infections due to dermatophytes (e.g. trycophyton species), yeasts (e.g. candida species), moulds and other fungi. These include ringworm (tinea) infections, athlete's foot, paronychia, pityriasis versicolor, erythrasma and intertrigo, as well as fungal nappy rash, candidal vulvitis and candidal balanitis.
4.2 Posology and method of administration
Dosage:
Adult, children and elderly:
Apply to the affected area two or three times daily
Dermatophyte infections: treat for at least one month
Candida infections: treat for at least two weeks
Route of administration:
Directly applied to the affected area.
4.3 Contraindications
Known hypersensitivity to any of the components
4.4 Special warnings and precautions for use
The cream contains cetyl alcohol and stearyl alcohol, which may cause local skin reaction (e.g. contact dermatitis)
4.5 Interaction with other medicinal products and other forms of interaction
Clotrimazole Cream may cause damage to latex contraceptives. Consequently patient should be advised to use alternative precautions for at least five days after using this product.
4.6 Pregnancy and lactation
Clotrimazole has not been associated with teratogenic effects but following oral administration of high doses to rats, there was evidence of fetotoxicity. The relevance of this effect to topical application in humans is not known. However, clotrimazole has been used in pregnant patients for over a decade without attributable effects. It is therefore recommended that clotrimazole should be used in pregnancy only when considered necessary by the clinician.
4.7 Effects on ability to drive and use machines
None known
4.8 Undesirable effects
Rarely patients may experience burning or irritation immediately after applying the cream. Rarely hypersensitivity reactions.
4.9 Overdose
Accidental oral ingestion: in case of accidental oral ingestion, routine supportive measures such as gastric lavage should be performed as soon as possible.
5. PHARMACOLOGICAL PROPERTIES
5.1 Pharmacodynamic properties
Clotrimazole is a broad spectrum imidazole antifungal agent which interferes with ergosterol synthesis and therefore alters the permeability of the cell membrane of sensitive fungi.
5.2 Pharmacokinetic properties
Not applicable