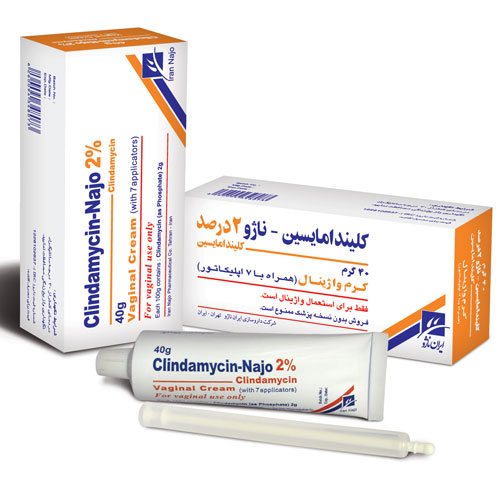 clindamycin-Najo 2% Vaginal Cream
Category: Antibacterial.
INDICATIONS: Antibiotic for the treatment of bacterial vaginosis.
DOSAGE AND ADMINISTRATION: One applicator full (approximately 5 grams) intravaginally at bedtime for 7 consecutive days. In patients in whom a shorter treatment course is desirable, a 3 day regimen has been shown to be effective.
Children and the elderly: No clinical studies have been conducted in populations younger than 15 or older than 60. Clindamycin-Najo Vaginal Cream is not recommended in children under 12 years of age.
CLINICAL PHARMACOLOGY:
Clindamycin is an antimicrobial agent which has been shown to be effective in the treatment of infection caused by susceptible anaerobic bacteria or susceptible strains of Gram positive aerobic bacteria. It has been shown to have in-vitro activity against the following organisms which are associated with bacterial vaginosis: Gardnerella vaginalis; Mobiluncus spp; Bacteroides spp; Mycoplasma hominis; Peptostreptococcus spp.
In women with bacterial vaginosis, the amount of clindamycin absorbed following vaginal administration of 100 mg of Clindamycin-Najo Cream (20 mg/g) is 4% (range 0.8-8%), which is approximately the same as in normal women.
CONTRAINDICATIONS: Clindamycin-Najo vaginal cream is contra-indicated in patients previously found to be hypersensitive to preparations containing clindamycin or any of the components of the cream base. Although cross-sensitisation to lincomycin has not been demonstrated, it is recommended that Clindamycin vaginal cream should not be used in patients who have demonstrated lincomycin sensitivity. Clindamycin vaginal cream 2% is also contraindicated individuals with a history of inflammatory bowel disease or a history of antibiotic-associated colitis.
PRECAUTIONS:
Pregnancy: pregnancy category B.There are no adequate and well-controlled studies in pregnant women during their first trimester, and because animal reproduction studies are not always predictive of human response, this drug should be used during the first trimester of pregnancy only if clearly needed and careful risk-benefit assessment should take place beforehand.
Nursing Mothers: It is not known if clindamycin is excreted in breast milk following the use of vaginally administered clindamycin phosphate. Therefore, a full assessment of benefit-risk should be made when consideration is given to using vaginal clindamycin phosphate in a nursing mother.
The use of clindamycin may result in the overgrowth of non-susceptible organisms, particularly yeasts.
Virtually all antibiotics have been associated with diarrhea and in some cases pseudomembranous colitis. Therefore, even though only a minimal amount of drug is absorbed, if significant diarrhea occurs, the drug should be discontinued and appropriate diagnostic procedures and treatment provided as necessary.
Clindamycin vaginal cream contains oil-based components. Some of these have been shown to weaken the rubber of condoms and diaphragms and make them less effective as a barrier method of contraception or as protection from sexually transmitted disease, including AIDS. Do not rely on condoms and diaphragms when using Clindamycin vagina cream.
SIDE EFFECTS: More common, important: cervisitis, vaginitis, vulvuvaginal pruritis. Less common, important: CNS effects, GI disturbance. Rare, important: hypersensitivity.
DRUG INTERACTION: Clindamycin has been shown to have neuromuscular blocking properties that may enhance the action of other neuromuscular blocking agents. Therefore, it should be used with caution in patients receiving such agents. No information is available on concomitant use with other intravaginal products, which is not recommended.
How Supplied: Each package contains one tube … grams of Clindamycin-Najo 2% vaginal cream.
storage: Store below 30°C.
For more information please refer to:
USPDI for Professional Health Care, 2007, page: 843.
Martindale
35

ed page: 225.

IRAN NAJO PHARMACEUTICAL COMPANY

www.irannajo.com
Address: No. 153, West Hoveiseh, Sabounchi St., Sohrevardi Ave., Tehran 1533693317, Iran
Tel: +9821-88747363 Fax: +9821-88740644 info@irannajo.com