Betamethasone-Najo 0.01% Topical Lotion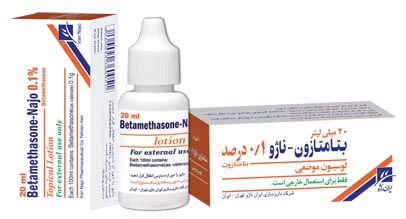 Category: SAIDs.
INDICATIONS: Betamethasone lotion is a super-high potency corticosteroid indicated for the relief of the inflammatory and pruritic manifestations of corticosteroid-responsive dermatoses in patients 13 years and older.
DOSAGE AND ADMINISTRATION: Apply a few drops of Betamethasone Lotion to the affected skin once or twice daily and massage lightly until the lotion disappears. Betamethasone Lotion is a super-high potency topical corticosteroid. Treatment with Betamethasone Lotion should be limited to two weeks. As with other highly active corticosteroids, therapy should be discontinued when control is achieved. If no improvement is seen within 2 weeks, reassessment of diagnosis may be necessary. Betamethasone Lotion should not be used with occlusive dressings. Betamethasone Lotion should not be applied to the diaper area if the patient requires diapers or plastic pants as these garments may constitute occlusive dressing.
CONTRAINDICATIONS: Betamethasone Lotion is contraindicated in patients who are hypersensitive to Betamethasone, to other corticosteroids, or to any ingredient in this preparation.
PRECAUTIONS:
Systemic absorption of topical corticosteroids has produced reversible HPA axis suppression, manifestations of Cushing's syndrome, hyperglycemia, and glucosuria in some patients.
Pregnancy: Pregnancy category C.
Nursing Mothers: It is not known whether topical administration of corticosteroids could result in sufficient systemic absorption to produce detectable quantities in human milk. Because many drugs are excreted in human milk, caution should be exercised when Betamethasone Lotion is administered to a nursing woman.
SIDE EFFECTS: erythema, folliculitis, pruritus and vesiculation each occurring in less than 1% of patients.
The following additional local adverse reactions have been reported with topical corticosteroids, and they may occur more frequently with the use of occlusive dressings and higher potency corticosteroids. These reactions are listed in an approximately decreasing order of occurrence: burning, itching, irritation, dryness, folliculitis, hypertrichosis, acneiform eruptions, hypopigmentation, perioral dermatitis, allergic contact dermatitis, secondary infection, skin atrophy, striae and miliaria.
DRUG INTERACTION: No information available.
How Supplied:
storage: Store between below 30 C.
For more information please refer to:
USPDI for Professional Health Care, 2007, page: 917.
IRAN NAJO PHARMACEUTICAL COMPANY
www.irannajo.com
Address: No. 9, West Hoveiseh, Sabounchi St., Sohrevardi Ave., Tehran 1533693317, Iran
Tel: +9821-88747363 Fax: +9821-88740644 info@irannajo.com