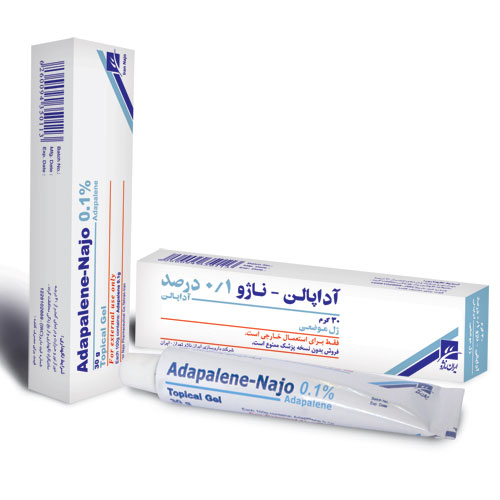 AdapaleneľNajo 0.1% Gel
Category: Antiacne.
INDICATIONS: topical treatment of acne vulgaris.
DOSAGE AND ADMINISTRATION: Adapalene-Najo Gel should be applied once a day to affected areas after washing in the evening before retiring. A thin film of the gel should be applied, avoiding eyes, lips, and mucous membranes. During the early weeks of therapy, an apparent exacerbation of acne may occur. This is due to the action of the medication on previously unseen lesions and should not be considered a reason to discontinue therapy. Therapeutic results should be noticed after eight to twelve weeks of treatment.
CLINICAL PHARMACOLOGY:
Adapalene is a chemically stable, retinoid-like compound. Biochemical and pharmacological profile studies have demonstrated that adapalene is a modulator of cellular differentiation, keratinization, and inflammatory processes all of which represent important features in the pathology of acne vulgaris.
Mechanistically, adapalene binds to specific retinoic acid nuclear receptors but does not bind to the cytosolic receptor protein. Although the exact mode of action of adapalene is unknown, it is suggested that topical adapalene may normalize the differentiation of follicular epithelial cells resulting in decreased microcomedone formation.Absorption of adapalene through human skin is low. Excretion appears to be primarily by the biliary route.
CONTRAINDICATIONS: Adapalene-Najo Gel should not be administered to individuals who are hypersensitive to adapalene or any of the components in the vehicle gel.
WARNINGS:
Patients with sunburn should be advised not to use the product until fully recovered.
PRECAUTIONS: Exposure to sunlight, including sunlamps, should be minimized during the use of adapalene. Patients who normally experience high levels of sun exposure, and those with inherent sensitivity to sun, should be warned to exercise caution. Use of sunscreen products and protective clothing over treated areas is recommended when exposure cannot be avoided. Weather extremes, such as wind or cold, also may be irritating to patients under treatment with adapalene. The product should not be applied to cuts, abrasions, eczematous skin, or sunburned skin.
Pregnancy: Pregnancy Category C. There are no adequate and well-controlled studies in pregnant women. Adapalene should be used during pregnancy only if the potential benefit justifies the potential risk to the fetus.
Nursing Mothers: It is not known whether this drug is excreted in human milk. Because many drugs are excreted in human milk, caution should be exercised when Adapalene-Najo Gel is administered to a nursing woman.
Pediatric Use: Safety and effectiveness in pediatric patients below the age of 12 have not been established.
SIDE EFFECTS: more frequent & important: Burning, Stinging skin, Erythema, Pruritus and Scaling.
DRUG INTERACTION: Acne products, Drying agents, Skin cleanser, Hair removals.
How Supplied: Each Package of Adapalene-Najo contains 1 tube 30 gram.
storage: Store at controlled room temperature below 30░C. Protect from freezing.
IRAN NAJO PHARMACEUTICAL COMPANY
www.irannajo.com
Address: No. 153, West Hoveiseh, Sabounchi St., Sohrevardi Ave., Tehran 1533693317, Iran
Tel: +9821-88747363 Fax: +9821-88740644 info@irannajo.com